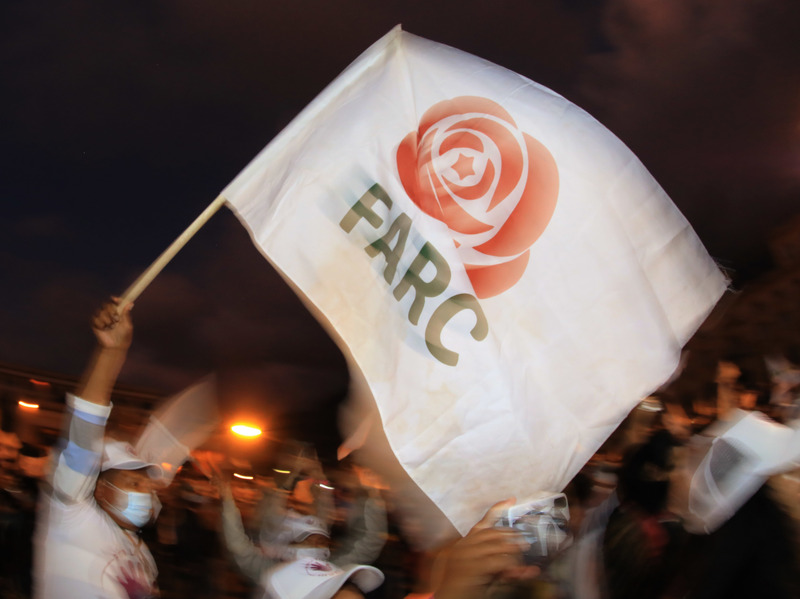 Daniel Munoz/AFP via Getty Images
The first death threat came in the form of a note slipped under the front door.
The former Colombian police officer had spent his career fighting rebels from the Revolutionary Armed Forces of Columbia — also known as FARC — and now that he was retired, they promised to hunt him down.
"Now that you're out of the police we will take care of the pending issues," read the note in Spanish, recounted in court filings. "We are returning to the area." The paper bore the FARC logo. Over the next few months, FARC would send four more death threats to Edier de Jesus Rodriguez Bedoya. But that wasn't enough for the Department of Justice, whose Board of Immigration Appeals (BIA) rejected his asylum request.
On Wednesday, a federal appeals court overturned that decision, saying that the BIA did not follow the law when it denied Bedoya's asylum application. The BIA had said that threats of death weren't enough to establish "persecution." But the Fourth Circuit Court of Appeals said that BIA had set the bar too high.
"As we have repeatedly explained, a threat of death qualifies as past persecution," wrote Judge Robert King for the unanimous three-judge panel. Although the written threats never explicitly said they would "kill" the officer, "their meaning is plain and unambiguous," the court wrote.
It's a rebuke of the BIA at a time when more and more claims are being denied. An analysis earlier this year by the nonpartisan human rights organization Human Rights First found far fewer people are being granted asylum than in the past. The current grant rate is 40 percent lower than the average during the Barack Obama and George W. Bush administrations, the group said.
The decision "is a good example in a line of recent opinions from the Fourth Circuit and other circuits slapping down the BIA for ignoring or openly disagreeing with controlling circuit precedent," said Bradley Banias, who argued the case on behalf of Bedoya. "It is a clear repudiation of the Board's refusal to follow 4th Circuit precedent,…


Read More: FARC Death Threats Were Enough To Establish A Valid Asylum Claim, Court Rules :