I was last here at University Hospital Monklands on 1 May when those dealing with the first wave of an unknown disease were already tired.
At that time, the deaths of 29,059 people had been registered in the UK within 28 days of a positive test for Covid-19.
I returned 259 days later with the number of deaths at 89,230 to find that the staff are exhausted.
"We're all physically, mentally and emotionally drained now," says Fiona Bauld, an intensive care unit (ICU) staff nurse.
In the first wave, the Lanarkshire hospital was almost empty except for patients being treated for Covid or other critical and emergency needs.
This time there are just a handful of spare beds in the entire building. Staff who had helped out with critical care last year are back in their own departments, and the ICU specialists are alone once more.
"There's not really enough extra nurses to account for the extra patients so the amount of work everyone is doing is much more," says intensive care consultant Daniel Silcock.
'Patients much younger'
The patients are changing too.
In the first wave, most patients were old and often ill before they contracted the virus, says ICU ward manager Margaret Harkins.
"This time the patients are a much younger age group and some have no underlying health conditions," she adds.
"We are getting people in in their 20s, 30s and 40s," Ms Bauld says. "Younger people are catching this virus and becoming really critically ill with it."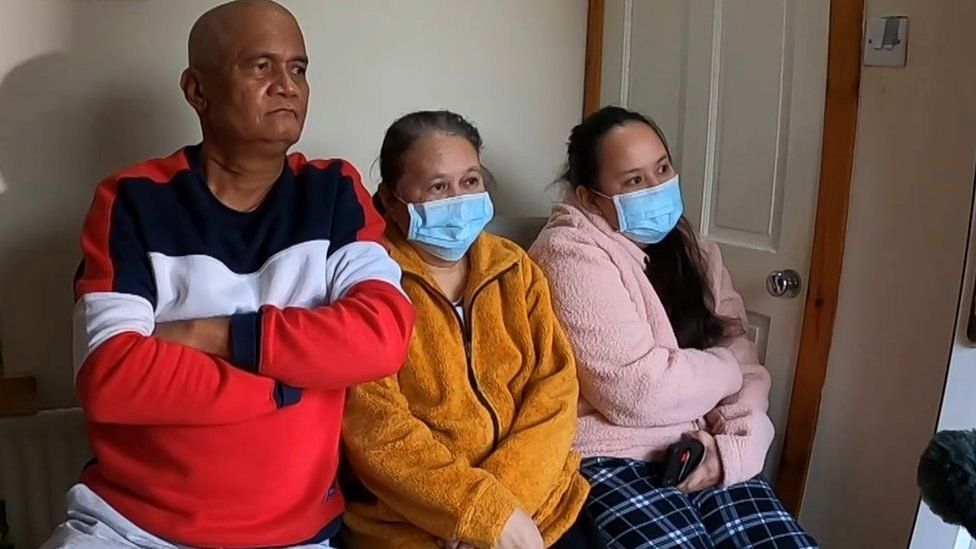 Mae Mamaril is one of them. She is 26 and has no underlying health conditions.
Mae and her parents Jaramias and Sonia, from Cumbernauld, North Lanarkshire, tested positive for Covid within days of being vaccinated for their jobs.
All three ended up in Monklands but Mae was the sickest and the only member of her family admitted to intensive care.
She had to wear an oxygen mask and lie face down on a bed for three days, a treatment called proning which medics say can improve lung function in many patients.
'I couldn't breathe'
"I couldn't breathe," she says. "It was really bad because they moved so quickly to give me oxygen and told me to lie on my stomach.
"All I could think about was wanting to come home, but then at the same time, I knew that if I didn't have enough oxygen, even if I went home, I would never survive."
Not only is the hospital busy with younger people in this wave but senior doctors say a third of all patients here now have the virus.
There is another big difference outside the building.
In May, when I drove from Glasgow to the hospital in Airdrie the roads were empty, the streets silent.
That is no longer the case. Heading east to Monklands again, the M8 is the busiest I have seen it since the pandemic began.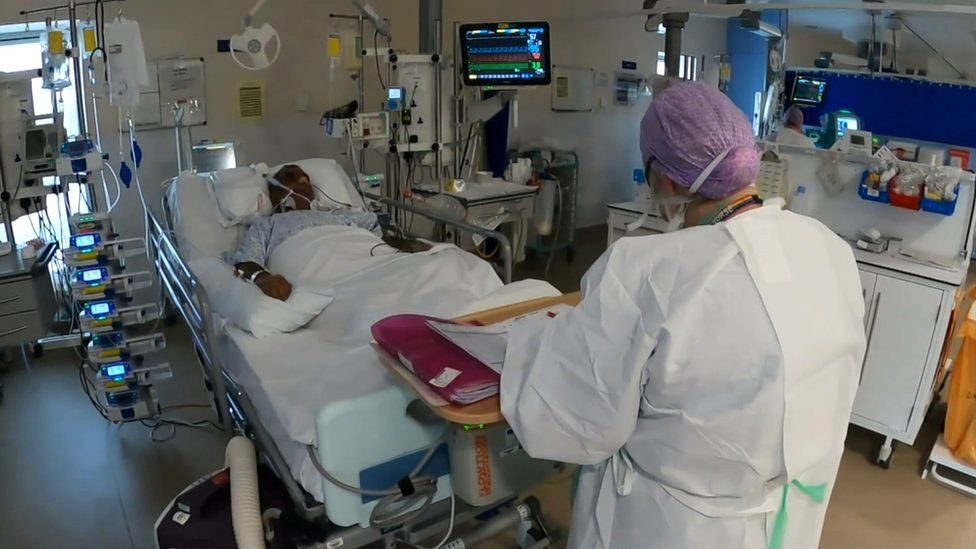 Doctors and nurses have noticed the increase in traffic too – and they are worried.
"Without a lockdown, I think it would just be a disaster," Dr Silcock says.
"We've had twice as many admissions this time as we did in the first wave."
Dr Sanjiv Chohan, who runs the intensive care department, says he too is worried.
'It's a really difficult balancing act'
But what about the many harmful side effects of lockdown – on other medical conditions, especially mental health, as well as the impact on education and the economy?
"I sympathise completely," says Dr Chohan, pointing out that the ICU staff are also affected by these issues.
"It's a really difficult balancing act. It's choosing the least harmful options," he says, adding: "We have to preserve some ability to have functioning hospitals."
At times, Monklands has not been able to function normally.
Since the autumn, around a third of all intensive care patients here have had to be transferred out of the hospital to other facilities — primarily to Wishaw and Hairmyres but sometimes out of Lanarkshire entirely.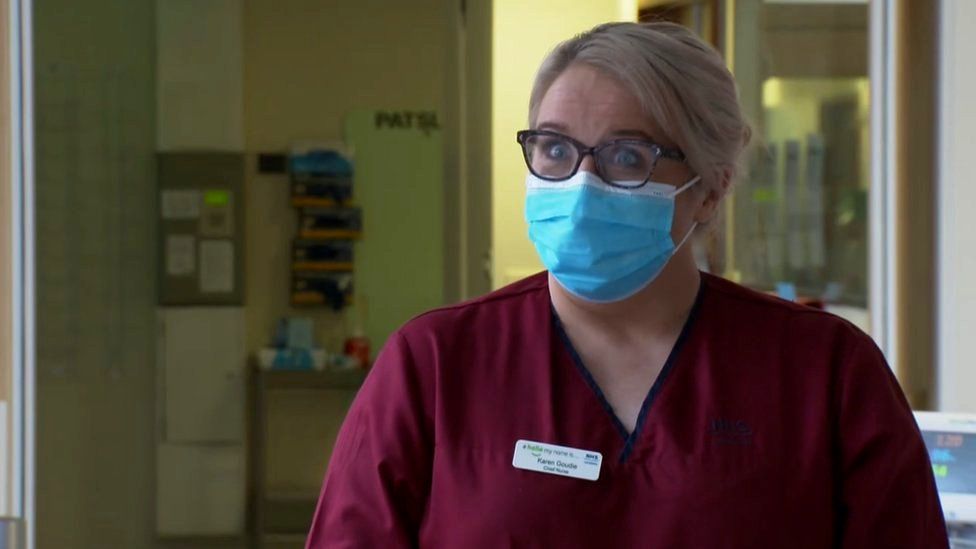 The chief nurse at Monklands, Karen Goudie, says that was necessary to reduce pressure and create capacity for incoming patients.
There has not yet been a point when all Scotland's hospitals have been overwhelmed at the same time.
"No, not yet but we're worried about the coming weeks," says Ms Goudie. "The projections look – scary, I guess, is the right word to use. "
Staff here believe a current increase in cases is attributable to families mixing at Christmas and to people not sticking to the current lockdown rules.
Still, they have coped. Patients are now less likely than in the first wave to need the dangerous intervention of a ventilator as knowledge of how to treat the disease develops.
For many though, a Covid diagnosis can remain frightening and perilous.
Jim McShane, 56, works for a gas company in Motherwell. I leave intensive care to meet him on the Covid ward where he is being treated.
"You just don't know what's ahead," he tells me. "It just destroys you sometimes. Brings you right down."
"I would tell people to stay out the road of one another," he says.
After I leave, Jim is transferred to intensive care. He is now on a ventilator.
There may be some signs that Scotland's latest surge in hospital admissions may be easing.
Read More: Tue, 19 Jan 2021 22:48:36 +0000-Monklands ICU staff are 'physically and emotionally' drained