(CNN) —  
If you've logged on to Instagram recently, you've probably seen the frequent ads promoting the direct-to-consumer plant-based "chicken" company. Featuring bright, enticing graphics, Nuggs bills itself as "a chicken nugget simulation" that utilizes "advanced soy protein technology" to mimic the "texture and flavor of an animal-based nugget."
Obviously, we had to try them out. As a former vegetarian — for over 10 years — I know my way around plant-based meat substitutes. As a current carnivore, I'm also extremely up to speed on what chicken tenders taste like.
When you order Nuggs on the Simulate website, you can pick from a 50-pack or 100-pack box, and they're available in plain and spicy flavors. As of December, the company is also offering Discs, which are plant-based sandwich patties.
Nuggs ($34.99 for a 50-pack or $44.99 for a 100-pack; simulate.com)
Spicy Nuggs ($34.99 for a 50-pack or $44.99 for a 100-pack; simulate.com)
Discs ($34.99 for an 8-pack or $44.99 for a 16-pack; simulate.com)
When I opened my box of the nuggets, I was surprised how many there were — 50 nuggets looks like a lot, and a great value — and I baked them as directed for 13 minutes at 425 degrees Fahrenheit. The directions suggest using parchment paper, which helps them bake well and makes for a super-easy cleanup. You can also drop them in an air fryer for 10 minutes at 400 degrees Fahrenheit. Five of the nuggets are 210 calories, and the ingredients include soybean oil, textured wheat protein, soy protein, breadcrumbs and more for flavoring.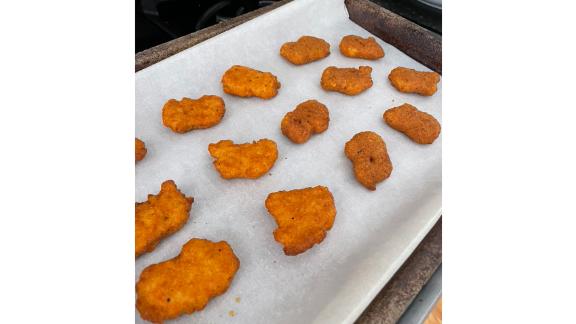 I lined up a buffet of dipping sauces — the brand's own sauce, a sriracha mayo I whipped up quickly and another BBQ sauce — while the Nuggs were baking. When I pulled my mix of plain and spicy nuggets out they were sizzling and looked surprisingly like actual frozen chicken nuggets.
I picked up a plain nugget and dipped it in the sauce and popped it in my mouth. It's pretty hard to tell the difference between the breaded plant-based nugget and a regular frozen chicken nugget. These aren't meant to be a high-end meal; Nuggs are closer to the tendies you might have baked after school for your friends when you were a teenager, or picked up at a fast-food restaurant. The spicy nuggets were also very tasty and had a nice heat to them, but somehow they were a bit drier than the original.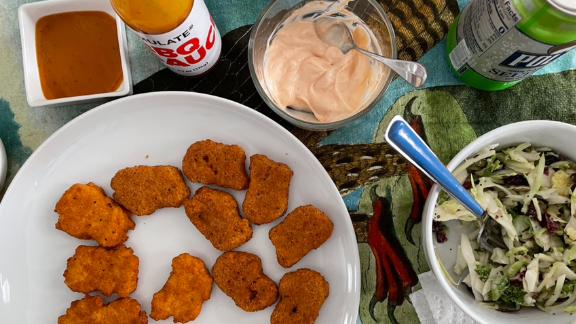 The breading is the forward texture here, not the protein substitute, and they lack that spongy texture of a lot of plant-based "meats." It's up to you to decide if that's a good thing or not, but I enjoyed the crisp, flaky breading.


Read More: Nuggs review: We tried the meat-free chicken nuggets