WITH FOREIGN TRAVEL dreams abandoned for 2021, it looks like another summer of staycations ahead. The good news is that once the intercounty travel restrictions are lifted, there are many places to explore on this fair island of ours.
February 2021 could be the month we scramble to get the last of the holiday homes by the Irish coast. But already, prime coastal holiday spots are heavily booked.
If you've been whiling away the last few cold, dull weeks dreaming of a holiday beyond your 5Km, then don't despair, not everything in Ireland is booked up this summer. Yes, demand is high, as many hope that Covid news will be more positive by the summer months and we are permitted a chance to escape around the country for a break.
So what are the options for holidaying in Ireland in the summertime? The most simple advice I can give first off is to veer toward the lesser-known places to avoid the crowds and travel midweek instead of weekends for increased availability. 
Get your walking shoes on

Source: Matt Mills
We've discovered a love of walking during the lockdown and after the success of the Waterford and The Great Western Greenways, new walking trails have been created around the country.
Last September the 165km National Famine Way was launched which follows the route of 1,490 emigrants who walked from Strokestown, Co Roscommon to Dublin during the famine.
Walk or cycle the trail which mostly follows off-road paths along the Royal Canal. This year, hopefully, will see the completion and launch of the Royal Canal Greenway which stretches a 130km along the 200-year-old canal.
The trail will link Maynooth, Enfield, Mullingar to Cloondara in Co Longford. Cycle or walk between the points and return by train to your starting point.
Glamping at Goleen Harbour 

A rock pool in Goleen

Source: Deirdre Mullins
After witnessing the growth of glamping while working on festivals such as Body & Soul; Melanie and Matt Mills set up this eco campsite in a stunning coastal location on the Mizen peninsula in Goleen, West Cork. Bring your own tent or campervan or rent an eco-cabin, classic caravan or bell tent.
On-site is an organic vegetable and honey farm, native woodlands, stunning flower gardens, Connemara ponies, walking trails and sheltered rock pools with crystal clear water ideal for swimming.
Day trips from Goleen include Barley Cove strand which is arguably Ireland's best beach, and to the Mizen Head visitors centre which is situated on the rugged cliffs of Ireland's most south-westerly point.
Ireland's Hidden Heartlands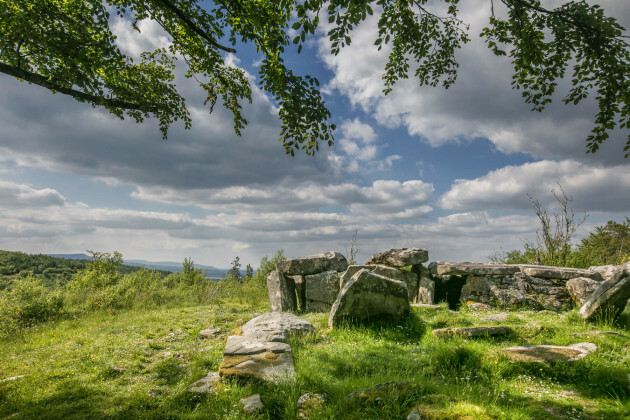 Stone circle, Cavan Burren Park

Source: Deirdre Mullins
Stay away from the crowded coastline and ditch The Wild Atlantic Way in favour of the often overlooked Ireland's Hidden Heartlands. This Fáilte Ireland brand was launched in 2018 and stretches from Leitrim to Limerick along the River Shannon and takes in several midland counties.
There is no shortage of…


Read More: No foreign travel this year? All is not lost, Ireland has a lot to offer