(CNN) —  
If there's anything we learned from the pandemic, it's that our outdoor spaces are truly an extension of our homes, places where we can hang out, entertain, enjoy a meal and even sneak in a nap year-round. "What we've noticed over the last year is that consumers are looking for their outdoor spaces to compete with all the style and amenities of their home's interior," says Lindsey Zborowski, design manager for Wayfair Professional.
As such, we should approach the design process for our outdoor area — whether it's a patio, a porch or a beachfront terrace — just like we would any other room in our home: thoughtfully! "Key factors to consider when creating an outdoor space are the size of gatherings regularly being held there, circulation and flow patterns, sight lines to the desirable views of the surrounding landscape and home, screening undesirable views and selecting materials in harmony with the architecture and surrounding environment," says Jarrett Kest, owner of J. Kest & Co., a boutique landscape architecture firm in New Jersey.
Adds HGTV's "Inside Out" host, landscape designer and fire pit maker extraordinaire Mike Pyle, "I'm a huge fan of creating moments within a space — designing several areas, such as a dining and lounge space, a fire pit area or other gathering spots that will pull you in." When doing so, of course, you'll want to consider how much room you actually have to work with, notes Pyle, saying, "Before purchasing any furniture, make sure you have at least 5 to 6 feet of space for walkways around furniture."
Speaking of purchases, let's talk about the elephant in the room: Investing in outdoor furniture is a costly endeavor! But here's the thing — it's a splurge that you'll reap the benefits from for (fingers crossed) a very long time. "To get the right outdoor furniture that will last years, if not decades, it is definitely an investment up front," says Taryn Whiteaker, owner of Taryn Whiteaker Designs in Seattle, Washington. "But trust me, it's money well spent."
With all that in mind, we culled a list of splurge-worthy products that have our stamp of approval and the praise from experts, influencers and consumers alike. Shop all of our picks below, and you'll be well on your way to enjoying your outdoor living space to the max this summer.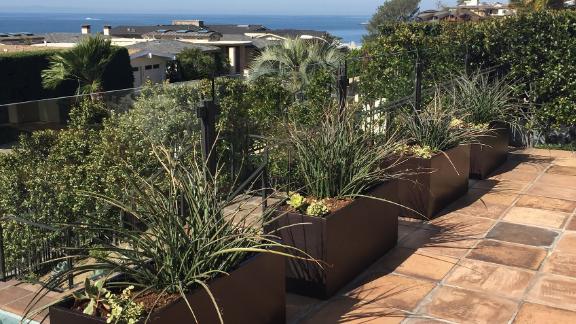 Wayfair
Joss & Main Fiberglass Planter Box
"Planters are a wonderful way to add interest to your space and you need to think bigger than just a small accessory, you can use them to create privacy or delineate one area from another area with a nice long low planter like this one," says Kest. "Change out the plants seasonally as you wish, and use mulch in the bottom half before you add potting soil — an insider's trick that is…


Read More: Outdoor patio furniture that's worth the splurge