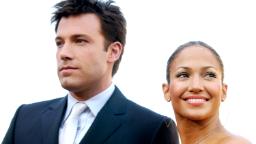 "Grease" (1978): Danny (John Travolta) and Sandy (Olivia Newton-John) come from very different backgrounds, but they enjoyed a summer romance before being reunited unexpectedly at school, singing the duet "Summer Nights," where they share very different memories about the romance quotient of what transpired between them. Of course, the complications, breakup and making up follow, but oh, those summer ni-ights.

"The Notebook" (2004): Allie (Rachel McAdams) and Noah (Ryan Gosling) sizzled on screen in this tear-jerking love story that made the actors America's sweethearts for some time, an accomplishment that should be lauded if only because both of them are from Canada. The rain kiss MVP of the early aughts, "The Notebook" was a love story we vowed never to forget — and haven't been able to because it's always airing on cable TV.

"Dirty Dancing" (1987): Frances "Baby" Houseman heads on a summer vacation with her family, where she falls in love with the camp's dance instructor, Johnny Castle (Patrick Swayze), carries a watermelon (if you know, you know) and perfects the lift with practice in the lake. Baby grows up this summer and probably never ever sits in the corner again.
"Jaws 2" (1978): OK, not technically a summer romance, but it does have summer and lots of teens dealing with relationships, crushes and feelings, a process complicated by the fact that a giant Great White Shark is waiting to eat them if one of the boys' dads, who happens to be the police chief (Roy Scheider), can't save them. If nothing else, it is memorable for one of the great movie poster taglines ever, "Just when you thought it was safe to go back in the water…"
"Say Anything" (1989): John Cusack's underachiever Lloyd Dobler falls hard for valedictorian Diane Court (Ione Skye) in director Cameron Crowe's teen romance, which seemingly, comes with an expiration date, since she's destined to go off to England at the end of the summer. Raise a boombox over your head and enjoy.
"Sweet Home Alabama" (2002): Josh Lucas and Patrick Dempsey vie for the affection of Reese Witherspoon in this not-quite summer release (I'm allowing it!) about a Southern belle who gets a ring and has to unring a bell from her past. Making the perfect rom-com, like going home, is never easy, but heck if Witherspoon doesn't always make it look like a whole lotta fun.
"Coming to America" (1988): In what may have been the last time the public overwhelmingly rooted for the royals, golden-hearted Prince Akeem (Eddie Murphy) sets out on an American adventure to find true love in this comedy. Lucky for him, his queen (Shari Headley) was waiting for him in Queens, and lucky for us, this classic remains highly rewatchable.


Read More: Jennifer Lopez and Ben Affleck: Why the celebrity couples ruling summer have