CNN
—  
With an endless stream of water bottles making numerous claims about technological innovations and insulating properties flowing into the market, it's easy to get lost in all the options.
To determine which bottles are truly worth their price tag, we culled thousands of insulated water bottles down to 15 contenders after reading through reviews and browsing bestselling bottles across the internet. We then put them through a litany of tests to determine which is the absolute best. (For more on our testing process, scroll down.) After two months of testing and drinking a whole lotta water, we narrowed down our picks to two bottles that stood out from the rest.
Best overall water bottle
The Yeti Rambler came out on top during our testing thanks to its stellar thermoregulation, amazing durability and fantastic chug cap that gives you a comfortable and quick drinking experience, while maintaining easy access to the superwide mouth.
Best budget water bottle
The 21-ounce Healthy Human Stein was a surprise standout in our testing for its durability and effective thermoregulation. We didn't love the lid, but you can add the optional Flip n' Sip lid to make the drinking experience easier. Plus, it comes in a dizzying range of colors and three sizes to fit most tastes and needs.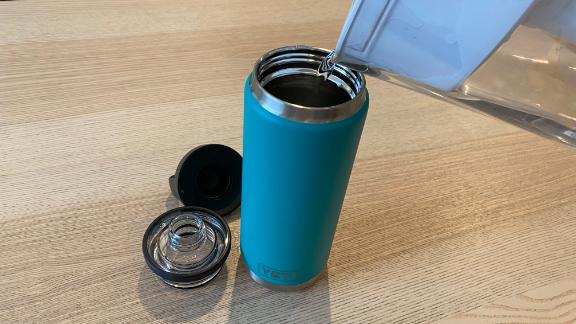 Kai Burkhardt/CNN
26-Ounce Yeti Rambler
While the Yeti Rambler is a bit on the pricier side, this water bottle is easily the best one we tested. Not only does it keep your drinks hot or cold for hours and hours, it's solidly durable and has the best lid we've ever tested. Plus, the Rambler is customizable, available in 14 colors and five sizes (12-ounce, 18-ounce, 26-ounce, 36-ounce and 46-ounce) and it's even dishwasher-safe.
While there are other bottles with great insulation that are reasonably durable, what pushes the Rambler past any other option on the market in our eyes is its standard-issue chug cap. This lid is made of two components: one that screws into the bottle and contains a spout, and another that twists on top of that to keep it protected. This two-tiered system means that whenever you want to take a swig of water, you can unscrew the top and chug away out of the spout. But when it's time to refill your bottle with water and ice, you can take the whole contraption off, revealing the Yeti's ultrawide mouth.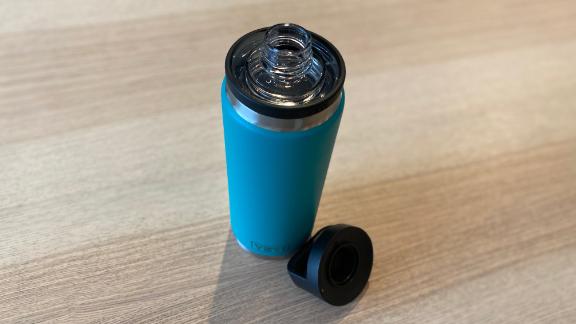 Kai Burkhardt/CNN
The Yeti Rambler's Chug Cap
Other bottles we tested offered spout lids, but those often must be purchased separately, and none of them worked as seamlessly as the…


Read More: Best water bottles of 2021