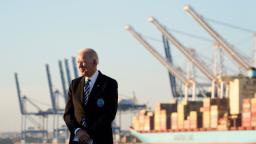 The Department of Energy will release 50 million barrels of oil from the
Strategic Petroleum Reserve
, according to the White House — the largest release from the reserve in US history, according to a White House spokesperson.
The release is aimed at addressing the lack of oil supply around the world, but its actual effect may be limited. In 2019, US petroleum use averaged approximately 20.5 million barrels of oil per day and in 2020 the US used on average about 18.1 million barrels per day, according to the Department of Energy's Energy Information Administration. The EIA reports petroleum usage was lower in 2020 due to the Covid-19 pandemic.
The barrels of oil involved in Tuesday's announcement will not hit the market until "mid to late December, depending on market take up," according to a senior administration official.
This release will be in coordination with several other countries, including China, India, Japan, the Republic of Korea and the United Kingdom. Officials believe the coordinated effort could potentially have more of an effect on lowering gas prices.
As of Friday, there were 604.5 million barrels of oil in the Strategic Petroleum Reserve, according to the Department of Energy.
The move comes as the White House faces mounting pressure to lower skyrocketing prices at the pump that are contributing to the biggest inflation spike in decades, causing frustration and anger among Americans.
Thirty-two million barrels will be in exchange "over the next several months," the White House said, and those barrels will eventually return to the Strategic Petroleum Reserve "in the years ahead." Eighteen million barrels "will be an acceleration into the next several months of a sale of oil that Congress had previously authorized."
"American consumers are feeling the impact of elevated gas prices at the pump and in their home heating bills, and American businesses are, too, because oil supply has not kept up with demand as the global economy emerges from the pandemic," the White House said in a news release. "That's why President Biden is using every tool available to him to work to lower prices and address the lack of supply."
CNN previously reported Biden hoped to announce his decision to release the oil reserves during a Tuesday speech at the White House, but that the timing of such a move was still contingent on other nations finalizing their agreements.
The President is scheduled to deliver remarks Tuesday afternoon "on the economy and lowering prices for the American people," according to the White House schedule, just hours before he is set to leave for a
Thanksgiving break on Nantucket
off the coast of Massachusetts
Biden had been
privately advised
in recent weeks that tapping into the reserve wouldn't do much to alleviate the current problems, but some Democratic lawmakers
argued
it could provide temporary relief at the pump. Senate Majority Leader Chuck Schumer was among the Democrats leading the charge.
Despite being told the impact may be…


Read More: Biden to announce release of oil reserves as part of effort to lower gas prices