Australians travelling overseas for the first time since international borders reopened are paying hundreds of dollars for travel insurance — but the fine print reveals some very big COVID-related exclusions.
Key points:
Major companies including NIB and Qantas are starting to sell travel insurance again
Most are offering limited protection for medical and travel expenses if people get COVID while overseas
No policies cover people for general lockdowns or border closures outside Australia or New Zealand
Sydney couple Beth and Larry Lee are about to fly to the United States to meet a grandchild they've never seen in person.
"I'm the kind of person [who] watches people at airports and cries when the people they know come in," Ms Lee says.
The Lees' nerves about their trip to the United States comes down to the unpredictability of post-COVID travel.
A recent survey by consumer group Choice found only 23 per cent of Australians were confident making travel plans.
"There are nerves because, if something happens, we might get stuck over there. We might end up in hospital," Mr Lee says.
"And we won't have money to cover that."
To try to protect themselves financially, Beth shopped around for travel insurance that could cover them for COVID-related issues.
She called several companies and got knocked back, before finding one with a supplementary policy for COVID-19.
What does their COVID travel insurance cover?
The Lees' travel insurance with the company Southern Cross cost $698 for two people for three weeks to the United States.
It was slightly more expensive than standard cover because the retired couple have some pre-existing medical conditions.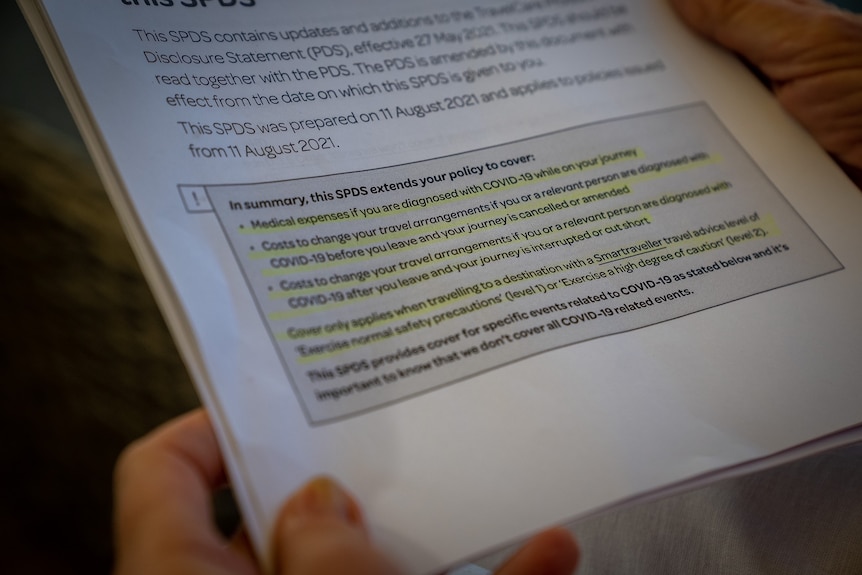 The Lees were only able to take out their policy to travel to the United States after the Smartraveller travel advice was downgraded from "do not travel" to instead "travel with caution", due to its ongoing COVID-19 outbreaks.
When it comes to what their policy covers for COVID-19, the Lees are protected for:
Medical expenses if they are diagnosed with COVID-19 while on their journey
Costs to change their travel arrangements if they, or a relevant person, are diagnosed with COVID-19 before they leave and their journey is cancelled or amended
Costs to change their travel arrangements if they, or a relevant person, are diagnosed with COVID-19 after they leave and their journey is interrupted or cut short.
Importantly, if the travel advice to the United States changes to "do not travel", ABC News has confirmed that Southern Cross will not cover them for COVID-19 expenses if they decide to push forward with their plans.
"They would be able to claim under our COVID-19 cover for costs to [cut short] their journey and return to Australia, as the change happened after they left and was unexpected," Southern Cross said in a statement.
"It's really important people monitor…


Read More: You can now get COVID-19 travel insurance. Here's what it does and doesn't cover