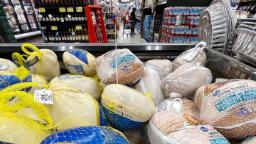 There's plenty of cause for concern on social, political and health issues. Covid-19 cases are
up in most states
, signaling yet again that the virus is here to stay. A series of court cases proved the national reckoning on issues of race is as complicated and unsolvable as ever.
And looming behind every story on politics is the expected, attempted comeback of former President Donald Trump, who this time last year was plotting a coup. Sometimes these stories dovetail, as when
Trump met with Kyle Rittenhouse
, the teenager who was recently acquitted after killing two people in Kenosha, Wisconsin, last summer.
On Wednesday, meanwhile, President Joe Biden pointed to the
conviction of three White men
in the death of Ahmaud Arbery, a 25-year-old Black man, as proof that "our justice system (is) doing its job."
What may touch more Americans more directly every day, however, is the state of the US economy.
Here is the disconnect between the data and daily life: People are feeling the pinch due to rising costs at the gas pump and the grocery store even when there's a lot of very good economic news to be thankful for.
I've borrowed much of her language for this list of arguably good news, which includes:
There is certainly a contradiction here if the national mood is down while the economic indicators are up.


Read More: Decoding the Covid economy contradiction on Thanksgiving